Nov. 7, 2014 was my first visit to the Mazza Museum in Findlay, Ohio. What an amazing place, just an hour and a half from Fort Wayne, and I'd never been there. I was so impressed with the museum and the Fall Conference. Here was the line-up:
Friday, there was dinner at the museum and at 7 the Mazza Medallion was awarded to Peter Sis with autographing following. All the artists were in attendance for the ceremony and autographing with a bonus artist, Will Hillenbrand with his new book, Snowman's Story at the autographing session. He was doing an interview and article on Peter Sis.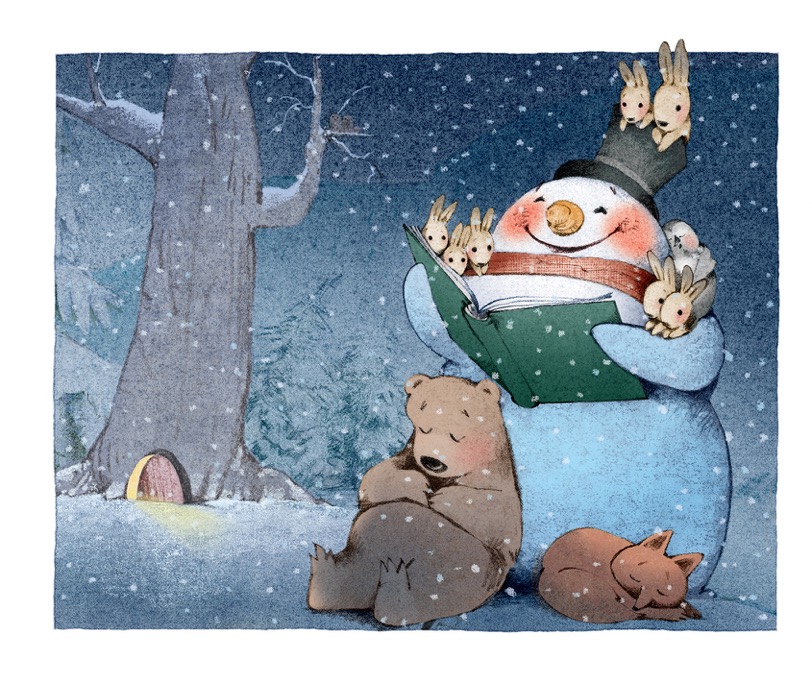 from Snowman's Story by Will Hillenbrand
Then on Saturday we began with door prizes at 8:30 am - fun Mazza give-aways with lots of free books. Then Divya Srinivasan spoke about her artwork, her life and how she her journey has progressed. She starts with a strong image in mind, she wants to tell a story, she wants to get a feeling across and a long standing tradition is making her sister laugh.
She's had many different animation projects, apps, and other work and that's where her books have come from.
Gianna Marino spoke next and she shared about her shyness and how most of what she did as a child was try to not talk to people and bury herself in books. She fell in love with horses and traveling and most of her young adult life was traveling around the world.
When home in California for awhile she started working with a great writer's group and that's how her books have come about.
There was a short break, then next up was Bagram Ibatoulline, he's originally from Russia, Siberia and he's been in the U. S. since 1981. He's had vast experience and likes try so many different ways to paint. He would get bored if he just stayed with one way.
After lunch, more autographing and door prizes we heard from Jen Corace and Ashley Bryan. Each artist had something new to share about themselves, something similar to add, the artist muse, and a unique point of view. From Peter Sis to Ashley Bryan it was a fascinating 24 hours that I'm still trying to take all in.
Jen shared how she contemplates and thinks, how she has worked on her pencil line, then not wanted a pencil line. She's worked on art shows to show her fine art, and done posters, album covers, and so much more. She even invented a role-playing game with her brother. Ashley Bryan has so much wisdom. He gave us a poetry reading concert, talked about what he does in the classroom for kids, and simply awed us.
I can't believe that before about a year ago I had never heard of Mazza. And I will go back as often as I can.
Check out their website: Mazza Museum, and please try to go. If you enjoy children's literature art or picture books at all, it's a must see.
I've put just one book for each artist that was featured that weekend. You can find out more from the Mazza website, here.