I recently did a post on the retelling of Tug-of-War by John Burningham. At that time I didn't have an older copy of The Extraordinary Tug-of-War done in in 1968 retold by Letta Schatz, with illustrations by John Burningham. Now I have both copies and can compare the two.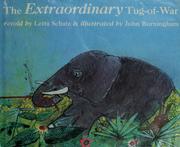 The covers are different, although very similar.
There is a change in pages: the old has 48 and the new has 32 pages. So there are less illustrations in the new version. The older version has a flat look while the new title is a larger format with a shinier, modern finish to the look. It also has a darker tone overall in the whole book. The older copy is brighter, longer in text and the text is more lyrical. The text in the newer adaption has less text and it looses it's rhythmic quality.
The new story would work better for a larger, younger group, while the older tale would work best for 2nd graders and older.
It's funny, I like them both immensely. I find the changes from older to the newer title intriguing. Some pictures were not used at all from the older copy to the newer copy. The newer cover art is stylized very well to bring the new updated story to life. I will want to use them both with the different groups. The younger, larger group of children would be Kindergarten to 1st grade, using the new, retold Tug-of-War.