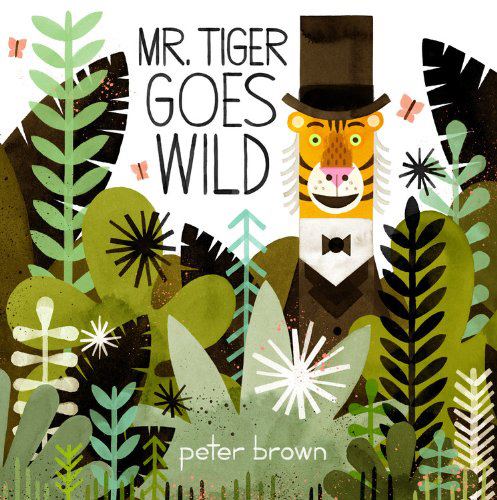 Mr. Tiger Goes Wild by Peter Brown is a delightful 'be yourself ' book. I love this easy going story that slowly brings about the theme of just being who you are.
The illustrations for this book were made with India ink, watercolor, gouache, and pencil on paper, then digitally composited and colored.
I like how Peter shows us the city life with lots of geometric lines and muted colors. Mr. Tiger is the only real breath of fresh air. And when he goes naked, he goes really wild. Mr. Tiger gets lonely and when he visits the city again, his friends have managed to loosen up a little.
I would love to visit the wilderness Peter has created. And it reminds me that we all have our little spots to bring out our best nature. Maybe it's not a wilderness, maybe it's a quiet spot or just something different to explore another side of yourself. You won't go wrong with Mr. Tiger. I hope he goes on many more adventures and takes us along.