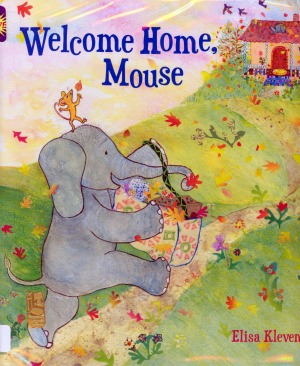 Art by Elisa Kleven
Welcome Home, Mouse by Elisa Kleven
is a joyful, magical book. Stanley is a bit awkward and clumsy, but when he makes a mistake, he tries to fix it.
Stanley accidentally ruins mouse's house. So he spends all day collecting items that will end up being used to make mouse a new house.
This story is a warm, whimsical story about friendship. I love the illustrations they are as warm as the story. The illustrations were created in a mixed media collage with watercolors, ink, pastels, and colored pencils. I am drawn more and more to mixed media collages especially with watercolors. The details in the artwork are amazing. I love bits of details set against the Autumn background.
If you go to the artist's website, you'll find a few activities and more information about her and the other titles she's written and illustrated. It's worth the time to look at her other titles, they are so happy, and beautiful.