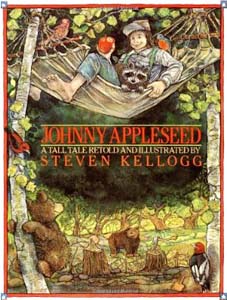 Johnny Appleseed: A Tall Tale retold and illustrated by Steven Kellogg is an old favorite I use with students. This weekend is the Johnny Appleseed Festival in Fort Wayne, Indiana, Saturday, Sept. 21st from 10-6; Sunday, Sept. 22nd 10-5 in Johnny Appleseed Park and Archer Park. He was born on September 26, 1774 in Massachusetts. There is a gravesite memorial in Archer Park that is on the National Register of Historic Places
The illustrations were done in paint and pen and ink on textured paper. Kellogg has a distinct style, his artwork is easily recognized as his unique work.
I love to use this book with students in 2nd grade and up. It's an intermediate level Picture Book, so if I have a mixed audience, I do paraphrase and use the pictures, but tell the story and legend without reading all the words. It's great to use with 2nd - 4th grade and discuss tall tales and how they are defined within the folklore genre. And it's also fun to work with this age of student to practice writing their own tall tales.