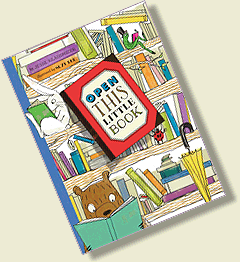 Open This Little Book by Jesse Klausmeier, illustrated by Suzy Lee is charming and endearing. It's description says it's die-cut, but it actually begins as a regular sized book and gets smaller and smaller, then bigger and bigger until it's back to it's original size.
The illustrations in this book were rendered in pencil and watercolor and were digitally manipulated. Each picture has an animal reading a book that when they open it, it becomes another book with an animal reading it, and so on, until the giant! She can't open the book, it's way too small, so the other animals help her. The Little Rainbow book, in the middle has all the other books open and you see a big rectangle of a rainbow.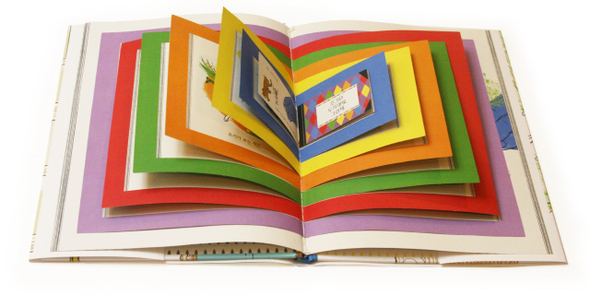 I found myself going over and over this book. At first it seems very simple, but then you notice a few little things, here and there. When I went looking for Suzy Lee on the internet, from what I found, it looks like she lives in Korea, which to my way of thinking is too bad, because she may want to be a resident of the United States. (fyi: caldecott winners and honors must be a resident of U.S.)
Because of how it gets smaller, I think this book would best be used one-on-one with children or maybe a couple of kids at a time, but in a big group, it might be difficult. I can see wanting to take this concept and making it a HUGE book out of poster board for Storytime. I'd use this with preschoolers and kindergarteners.
Go the Suzy Lee's Website for a book trailer of Open This Little Book here.