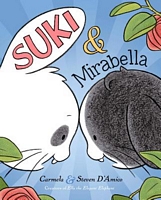 Suki & Mirabella by Carmela & Steven D'Amico is an entertaining frolic. Both bunnies, cousins, compete and both come out winners.
The pictures were created with charcoal pencils on Rives BFK paper, scanned into a 27" iMac and colored using custom digital charcoal tools in Corel Painter 12.
It's not too preachy about getting along, and the competition between the two seems to be absent a bad attitude, which is refreshing.
I would use this for a Storytime on friendship or bunnies with preschoolers to second graders.