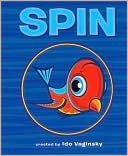 Spin! created by Ido Vaginsky, paper engineering by Michael Caputo is a unique book. On the cover is a fish, but when you spin it, it becomes a bird. Pretty ingenious!
A squirrel becomes a horse, a cow an owl, a frog a moose, a cat a mouse, and a monkey turns into a duck. The only one that doesn't work too well is the cat and mouse, only because it's a pull-tab, and I broke it playing with it. So it does need to be engineered to be a little more sturdy.
I love the concept and kids of all ages will get a kick out this! Children love optical illusions and these are bright and bold, very eye-catching. The art appears to be digitally rendered.