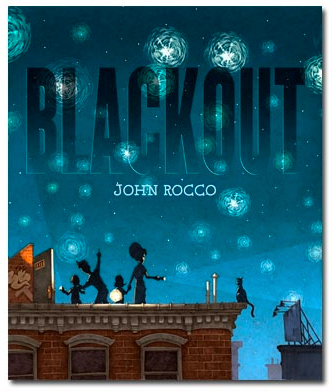 Blackout by John Rocco

is one of three Caldecott Honor books from 2012. Rocco's artwork is rich and deeply shadowed. It has a cartoon-like feel to it, but doesn't seem too comic-bookish.
After the power outage we had this summer, I could identify with the family in this book. The apartment-dwelling family looses electricity and finds new ways to entertain themselves, first on the roof, then down on the street. The neighborhood takes on a new perspective while experiencing it's blackout. They don't seem to loose electricity for as long as we did. This would be a great book to share with family, during a blackout, or for a teacher to use on the first day of school to talk about what happened this summer. Most of Northeast Indiana experience some kind of power outage, with many people down for 3 or more days.
Rocco's art is fascinating to watch come to life. Checkout his making of Wolf! Wolf! to see how he creates his art. He hasn't shared how he made Blackout, yet, but
there is a
book trailer
!