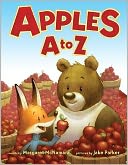 Apples A to Z by Margaret McNamara, illustrated by Jake Parker is a an apple alphabet. Lots of real information about the apple life cycle, what you do with apples, how they are and more! This has science information (apple trees are deciduous), math information (Q is for quarters, four pieces of apple), and lists 26 different varieties of apples. There are apple activities listed in the back.
Each page as a letter of the alphabet with about 2 or 3 lines of information. If I was using this with preschoolers or Kindergarteners I would pick and choose a few letters. With 1st - 3rd graders, you could read the whole book.
Jake Parker's website has a ton of information on him. The illustrations seem to be done in watercolor and pencil, and probably used with digital rendering too.