I liked Will Hillenbrand's latest book
Kite Day
so much, that I went looking for more of his titles that I might have missed.
What a Treasure!
was written by his wife, Jane. It's about mole digging a hole and finding treasure of one kind or another. A sweet story. The illustrations were done in egg tempera, oil pastel, and ink on canvas.
Sleep, Big Bear, Sleep!
by Maureen Wright, illustrated by Will Hillenbrand is an entertaining story about Big Bear and he doesn't hear very well. When Old Man Winter keeps telling him to sleep, Big Bear thinks he hears, sweep, steep, and leap, and the frolic that ensues is hilarious.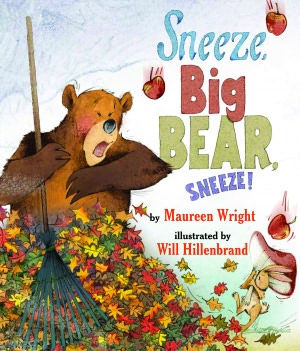 The follow-up story,
Sneeze, Big Bear, Sneeze!
also illustrated in mixed media by Will Hillenbrand, written by Maureen Wright is just as merry a story. Big Bear thinks that when he sneezes that the apples and leaves are falling off the trees and that he is scaring the geese away.
But what really happens is Autumn Breeze makes his appearance and sets Big Bear straight. I hope we see a Spring and Summer story with Big Bear too!