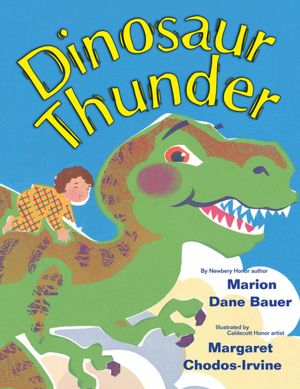 Dinosaur Thunder by Marion Dane Bauer, illustrated by Margaret Chodos-Irvine is a strong story for getting over a childhood fear - thunder.
The illustrations for this book were created using a variety of printmaking techniques and non-traditinal materials, including textured wallpaper, vinyl fabric, plastic lace, and pencil erasers.
Chad helps his younger brother, Brannon not be afraid of a storm, especially the thunder by comparing the thunder to dinosaurs stomping around. Other family members tried to help, but the dinosaur comparison is the big hit!