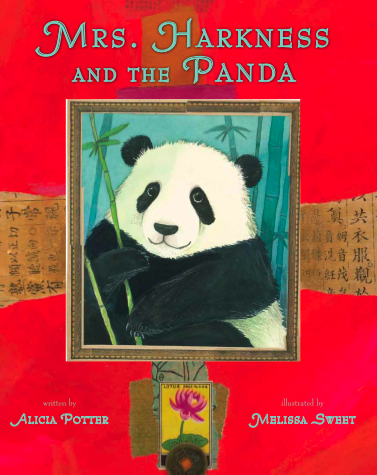 Mrs. Harkness and the Panda written by Alicia Potter, illustrated by Melissa Sweet is a factual telling of the trip to China Ruth Harkness took to find and bring back a live Panda to the United States.
The artwork was rendered with watercolors and mixed media. The illustrations are a delightful mixture of different pieces of paper with the watercolor pictures. I especially like the pages where Mrs. Harkness starts off on her journey to China. The clever addition of the postcards and map are refreshing. The two-page spread of our first glimpse of the baby panda is precious. At the end, with the photo of Mrs. Harkness and Su Lin(the panda), the author notes, the chronology of events and the bibliography add to the authentic flavor of the story.
Check out the Caldecott Honor-winning illustator at her website.