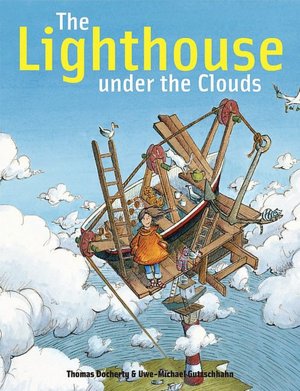 Back in March, I reviewed the new Thomas Docherty book, To the Beach. I liked his painting so much I had to see the rest of his books. So my library has two more: Little Boat and The Lighthouse Under the Clouds. They are both done with pen and ink and watercolors.
The Lighthouse Under the Clouds
is a fascinating story about an island that never saw the sun or moon, it was cloudy all the time.
The Little Boat travels all over the oceans. It depicts the boats traveling, but it reminds me of people and how we take our life journey. Ups and downs, around and round, but we have or friends to go with us along the way. Beautiful watercolors!