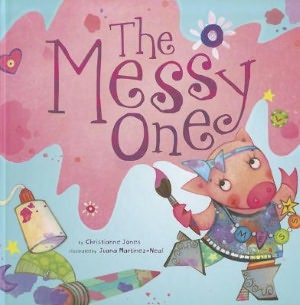 The Messy One by Christianne Jones, illustrated by Juana Martinez-Neal
is about the messy one in the family. And how the messy one became a little less messy. I really like the bright colors, and mixed media that the artwork shows. I had a hard time finding the author's contacts and website, but the illustrator's
Juana Martinez-Neal's Website is great!
From her site she says:
"
I use everything and anything that I can find and that I feel fits the piece. From tissue paper to burlap, from beads to wire. I love the unexpected."
Even the end pages look and feel like cloth. I have been practicing watercolor art for a couple of years now, and I love to use different techniques with the watercolors too.