Whew! May whizzed by and now it's Summer Reading time!
Here's the latest on new books for me.

Green Wilma, Frog in Space by Tedd Arnold, Dial Books for Young Readers, 2009.
"A distracted frog + a rather froggy alien child + a spaceship on auto-pilot = an irresistibly goofy, action-packed, laugh-filled tale of mistaken identity" From the front flap
I love Tedd Arnold's books, from Fly Guy to Huggly and the 'Parts' books, he is funny and silly with great details. This rhyming picture book will be good for frog or space theme. The rhyming goes right along with the phonological awareness for early literacy. After reading it through with the rhyme and story, going back through it and asking your child questions is sure to draw them into the story.
Ron's Big Mission by Rose Blue and Corinne J. Naden, Illustrated by Done Tate, Dutton Children's Books, 2009.
"Ron loves going to the Lake City Public Library to look through all the books on airplanes and space. He is ready to take out books by himself. But for Ron, in the segregated world of South Carolina in the 1950s, getting your own library car is not just a small rite of passage – it is a first courageous mission. Here is an inspiring story, based on Ron McNair's life, of how a young boy, future scientist and shuttle astronaut, desegregated his library through the power of peaceful resistance." From the front flap
This book is all about why I am a librarian. Yes, I love working with children and books, and bringing those two together, but first of all I am a believer in freedom of choice and not taking that away from someone of any age. Yes, I cried while I read this book on my lunch hour. It made me want to stand up and yell "YES!" this is what it's all about and run around and tell our customers why we protect their freedom and what they are missing. Well, I didn't do that, but I will remember this book and I will use it as soon as I can. A theme on peace, courage, people, freedom – there are many ideas on ways to use this book for a Storytime. Hmm, I'm thinking of a way I can wrangle some teens I know and read it aloud to them …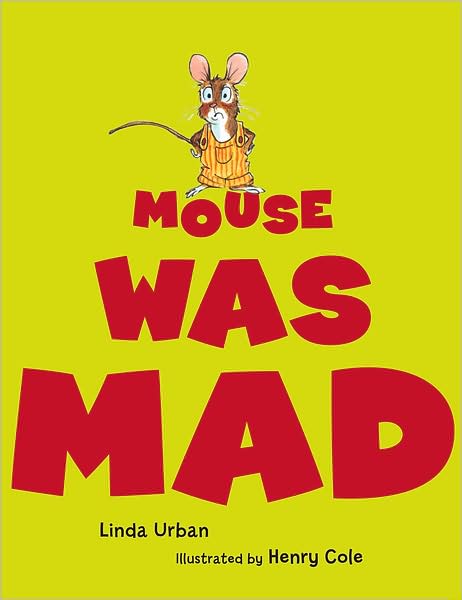 Mouse Was Mad by Linda Urban, Illustrated by Henry Cole, Harcourt Children's Books, 2009.
"Who knows the best way to be mad? Bear stomps. Bobcat scrams. Mouse? He just can't get it right. But if he can find his own way, that might be the best of all." From the front flap
Facial expressions, perspective, I believe all these animals are MAD! What a funny concept, trying to tell someone that's not the way to be mad, or trying to be mad like someone else. It's best to be yourself in all situations. Although the hedgehog looks a lot like a porcupine to me, the watercolor and colored pencil drawings are terrific. This will be a great book to recommend to a parent or caregiver that is dealing with a child's anger issues. Themes I would use for this book are feelings in general, or maybe a Let's Get Angry Storytime. Narrative skills would come into play – you could recall the different animals and how they get mad.