Oooh, it's been too long since I've blogged, but I have some great new books.
Stuff and Nonsense by David Pelham
is a touch and feel book with a pop-up surprise.
What a great book for my recycle crafts program. These adorable mice put together a little surprise with all their bits and pieces. I can't wait to see what the kids make out of our recyclable stuff on Earth Day.
Blood and Goo and boogers too! by Steve Alton, illu
strated by Nick Sharratt and Jo Moore
is a heart-pounding pop-up guide to the circulatory and respiratory systems. Just for starters there is squashy goo on the front cover. This will be a good one for anyone but especially those reluctant readers.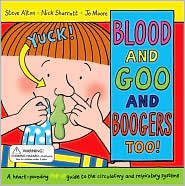 Chicken Butt! by Eric S. Perl, illustrated by Henry Cole.
Chicken Butt! is perfect for those kids that can't let go of something they think is funny, but parents and other adults don't want to hear. I can't wait to read it aloud at the parochial school!
Mommy, Where Are You? by Leonid Gore.
This colorful story is about mouse who can't find his mommy. She (or he) mistakes her for several other animals as we spy them through die cuts.
It's Useful to Have a Duck by Isol. I love this accordion folded book. On one side it is about having a duck and on the other side is about the duck having a boy. This would be a good book to use to show parents how to make an accordion book with their child for early literacy pieces.
Hansel and Gretel retold and illustrated by Rachel Isadora.
Isadora does it again - beautifully illustrated an old favorite with an African twist. This colorful retelling of Hansel and Gretel is using cut paper and depicts the witch with wonderful creepiness.
Silly Tilly by Eileen Spinelli, illustrated by David Slonim.
This rhyming story celebrates that silliness in us all. Tilly is a great eccentric and is finally appreciated by the other farm animals.