What a beautiful spring week for National Library Week. My family and preschool storytimes feature stories about reading and libraries. We read Wolf! by Becky Bloom. I love this story about the big bad wolf and how he learns to read and make an impression on the 'educated' animals on the farm.


We also read Book! Book! Book! by Deborah Bruss, a funny story about how the animals got bored after the kids went to school and the chicken leads the way to library to read a book and end their days of boredom.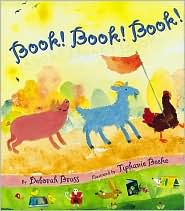 Another favorite is I Took my Frog to the Library by Eric A. Kimmel. I especially love how the elephant is reading at storytime, at the end.
Some fingerplays and songs
I Am a Librarian
(tune: Yankee Doodle)
I am a librarian,
I check out all the books.
Come and visit me real soon,
And give my books a look!
All the boys and girls can come
And check out books for free.
I help them find the books they want
At the library!
Books
Big books, little books,
(hands wide, then bring together)
Short books, tall,
(hands one above the other, spread apart)
Thin books, fat books,
(hold thumb and pointer close together, then spread apart)
I love them all.
(place hand over heart)

Read, Read, Read a Book
(tune: Row, Row, Row Your Boat)
Read, read, read a book,
Read one everyday.
Reading books is tons of fun
That's what the smart kids say!

The Library
You cannot tell its magic
By the way the building looks,(hand above eyes, looking)
But there's wonderment within it,
The wonderment of books.(open hands to make book)

This Is The Way
This is the way we read our books,
read our books, read our books.
This is the way we read our books,
All through the day.
(Add other verses such as: turn pages,
listen to stories, look at pictures, go to the library, etc.)